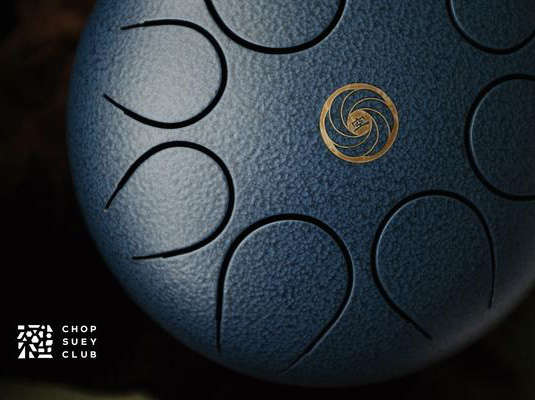 KONG Drum
KONG drums are musical sculptures born from the Buddhist concept of 'emptiness.' Beautifully rendered derivation of handpan creates tranquil & uprising sounds.

KONG drums are made of high quality coated steel. The name "KONG," literally meaning "empty" or "emptiness" in Chinese, originated from a passage in Parajna paramita Sutra, "Form is no other than emptiness, emptiness is no other than form." That suggests that we are mostly troubled by superficiality, only when we achieve a peaceful mind we are then able to hear our voices within. The cosmic sound of the Kong drum instantly transcends the environment and purifies one's mind. The Kong drum's hollow, oblong appearance also directly reflects this philosophy.

Designed by Beijing based artist duo Wang Xing and Yu Cen, they decided to make a steel drum themselves when they could not get their hands on a handpan. Wang Xing, a trained sculptor, was in charge of the look, and Yu Cen, musician and painter, took care of the acoustics. After two years of extensive research and experimentation, the KONG Drum was born.


The Kong levels the playing field of musicianship: a music aficionado and a complete novice alike can both play and enjoy the unique sound and feel. In fact, it is those who have an outsider's perspective on musicianship end up having the most fun discovering that they too can play and that musical instruments don't have to be so serious.