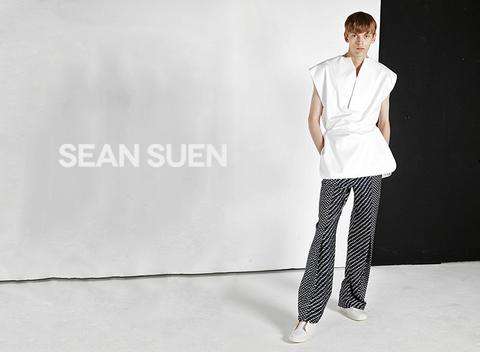 SEAN SUEN
By giving his name to the label he founded in 2012, Chinese designer Sean Suen reaffirms a singular and personal vision honed through his fine arts degree and early professional life in graphic design. Envisioning his eponymous brand as a platform, he approaches each garment as an individual design project, challenging traditional constructs of structures, materials and composition, all in search of the essence of masculinity, today and tomorrow.

Now a part of the official Paris Men's Fashion calendar, Sean Suen made his debut at Spring/summer 2016, offering a first glance at his design vocabulary in which garments are viewed as wearable design objects in a quest to describe a post-modern, languid masculinity.

Strength through structure and a quiet confidence expressed through unique design concepts are his signature. Through his collections, he taps into a highly graphic glossary to underscore a creative story arc in which he puts on equal footing inspirations from the realm of art (German artist Daniel Sinsel for SS18), cinema (Bertolucci's 1987 film The Last Emperor for AW18) or architecture.